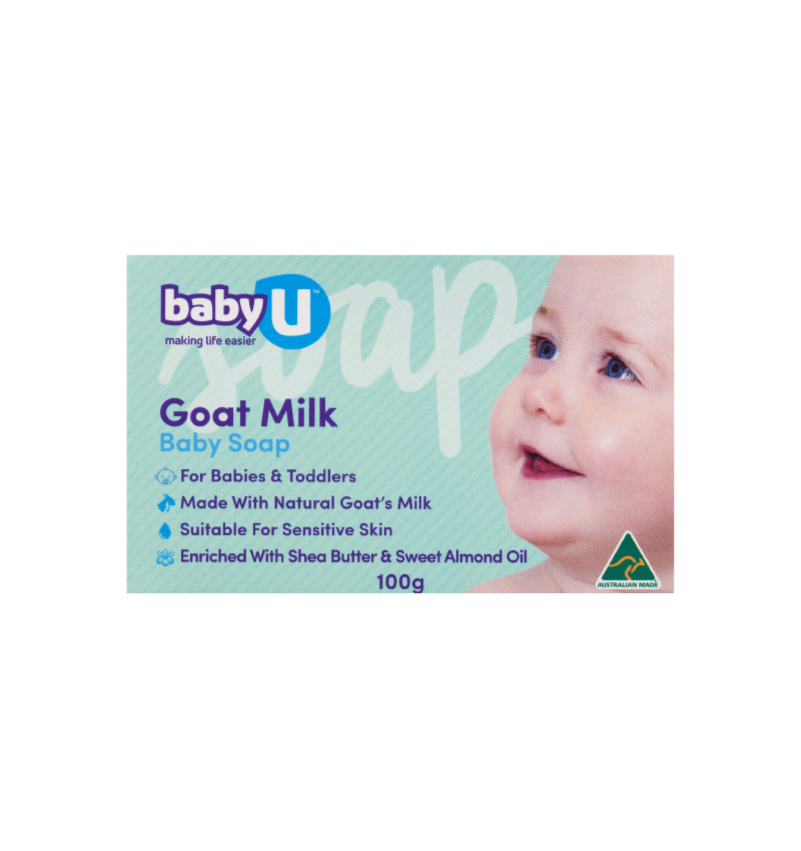 Back
Goat Milk Soap 100g
Enriched with soothing goats milk sourced from country Victoria
Regular soap can dry out or irritate the skin. babyU Goat Milk Baby Soap has a gentle creaminess that is especially beneficial for dry, itchy or sensitive skin. Made with natural, sustainable ingredients, babyU Goat Milk Soap leaves skin feeling soft, smooth and moisturised.

Customer Reviews
Goat milk soap
The babyu goat milk soap is creamy and lathers well. You can use it on baby's hair, but just ensure you avoid contact with babies eyes. Goats milk has natural sources of vitamins and amino acids making this a safe product for delicate and sensitive baby skin. The soap is subtly scented by the almond oil and Shea butter which makes babies skin continue to feel soft and fresh. The product is Australian made and owned making it one of my favourites for baby.
Total go to soap
We use this soap for the whole family. It smells lovely, is gentle on the skin and sensitive to use, as well as leaves the skin soft and smooth. My daughter had a flare up of eczema and we used this and I believe that it made it better and cleared her symptoms.
Love this soap
I'm a big fan of many BabyU goats products - and this is no exception. I use the bar soap for quick cleans in the laundry tub. Its soft on our hands, lathers and leaves a nice smell. When my baby was young - this was the only soap i used as i felt it was less harsh than others with chemicals.