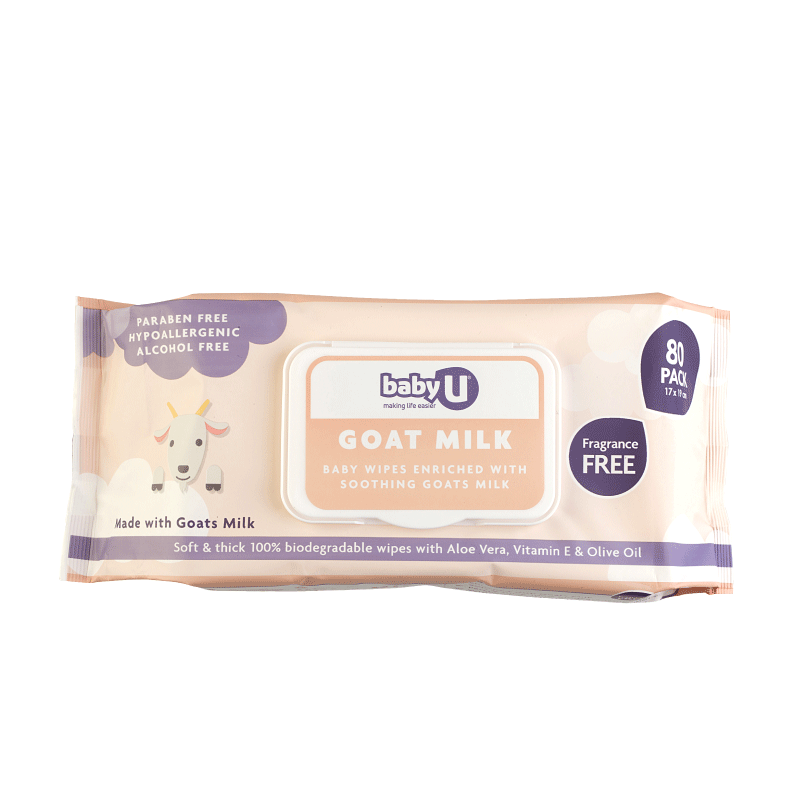 Back
Goat Milk Wipes 80pk
Enriched with soothing Goats Milk, 100% Biodegradable
The babyU Goat Milk Wipes are enriched with Soothing Goats Milk. The wipes are 100% biodegradable, so they're kind to the environment too. The gentle formulation is paraben and alcohol free, so it contains no nasties and is enriched with soothing Aloe Vera, Vitamin E and Olive Oil to soothe delicate skin.

Customer Reviews
babyu goats milk wipes
The Babyu Goats Milk wipes are alcohol and fragrance free. They have aloe vera, vitamin e and olive oil making them quite moisturising. Although they are not as wet as some wipes making some poop scenarios a little messy. But they are gentle on little tooshies making them a worthy purchase when on special.
For fragrant free they oddly smell amazing.
I was gifted a sample of these wipes in a baby show bag and I really liked them so I brought more recently. My little one doesn't have sensitive skin but I've been trying to find a wipe that leaves him smelling fresh and clean. These wipes defiantly do that. They are lovely and thick and they have a really nice clean baby smell. We have tried lots of wipes and I really like these.
Great for sensitive skin
By far our favourite wipes!! They are thick and don't have a smell or any harsh chemicals. My bub has sensitive skin and other more expensive wipes give her a rash. These are the only wipes that don't irritate my bubs bum and they seem to keep nappy rash away!