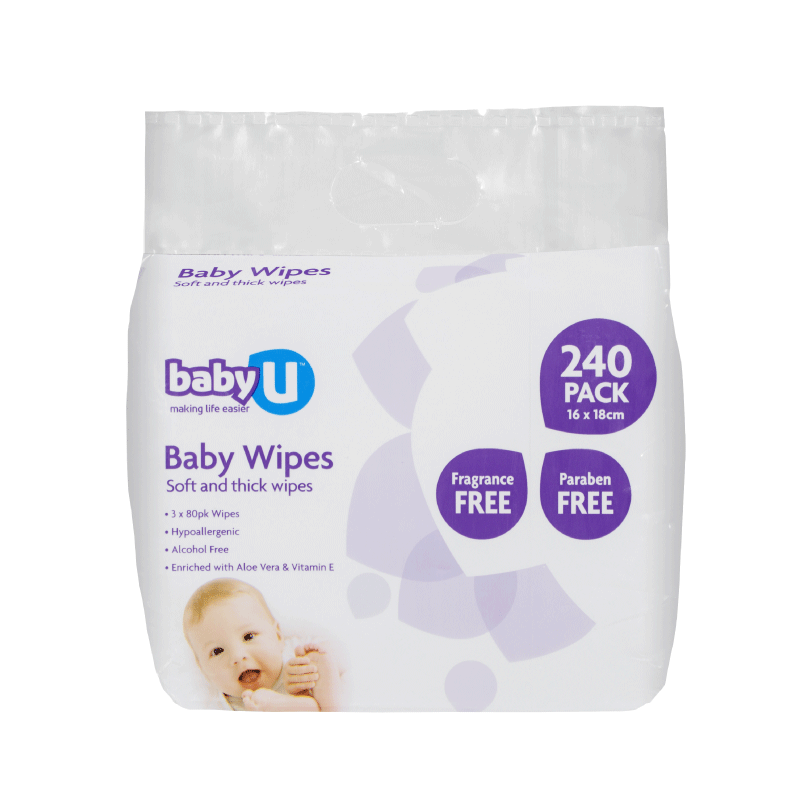 Back
Baby Wipes Fragrance Free
Hypoallergenic, Fragrance Free, Alcohol Free
babyU Baby Wipes are perfect for using on little ones at nappy change time. The wipes feature gentle cleansers and are enriched with Aloe Vera and baby lotion to care for baby's delicate skin.

Customer Reviews
Good cheap baby wipes
These wipes are thick and easy to get out of the pack. . These wipes also absorb all the newborn messes without issue. I do like the fact that there is a hard top to close the packet tightly so that the wipes stay wet. Found these to be a reasonable cost as a single packet purchase, and even better cost as a bulk purchase.
Great value for good wipes
I really like the Baby U Goat Milk wipes so thought I would give these a go as they are very well priced. These wipes are soft and thick and are moist enough to get the job done. Pleased with the plastic closure tab as it clips well keeping the wipes from drying out. Would buy again.
Great
I picked up a pack of these wipes while out shopping and realising that I had left our wipes on a table somewhere. I found them to be strong, thick and a good size. They are nice and moist without being too wet and do a great job of cleaning sticky hands and faces.