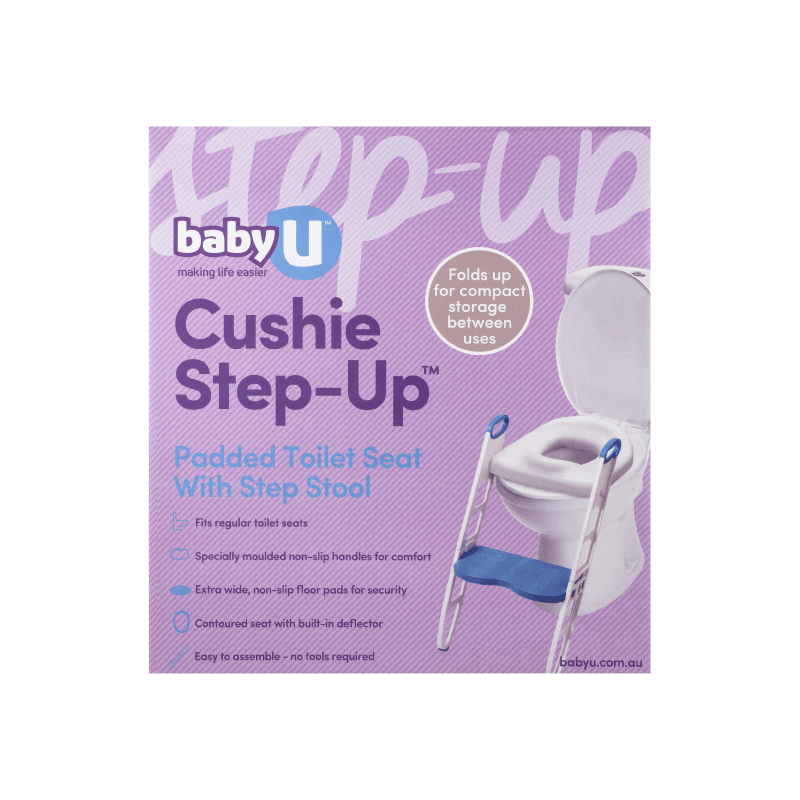 Back
Cushie Step Up
Padded Toilet Seat with Step Stool
The babyU Cushie Step-Up is perfect for toddlers and parents that find Toilet Training a daunting task. Easy to assemble, the Cushie Step-Up helps toddlers gain more confidence in using an adult sized toilet. The Cushie Step-Up features a soft, contoured seat, non-slip handles and extra wide non-slip floor pads for security.
Specially moulded non-slip handles for comfort
Thick padded seat to give comfort to small bottoms
Easy to assemble – no tools needed
Folds up for easy storage between use
Fits all regular toilet seats (excluding square toilets)
Extra wide non-slip floor pads for security

Customer Reviews
Great toilet training tool
Love this toilet seat! Both my kids went straight on the toilet using this seat! No need for a potty. Will definitely use for our next baby too! Fits easily on top of the toilet and easy for the kids to put on and off themselves. Sturdy and doesn't move around like some other seats.
New Purchase - so far so good
Easy to put together and fits over our toilet well. Bub is still abit scared to use it but she is using the steps and sits on the toilet. A work in progress but so far it is a durable and easy to use product, slides nicely down the side of the toilet
Highly recommend
Bought this to replace a padded toilet seat & step stool as both took up too much room to store in out toilet. I liked that this product was the 2 in 1 (step & seat) and folds up and it fitted nicely against the wall next to the toilet. Our toddler loved it, he was much more independent and soon was unfolding it himself. We had no problems with it.