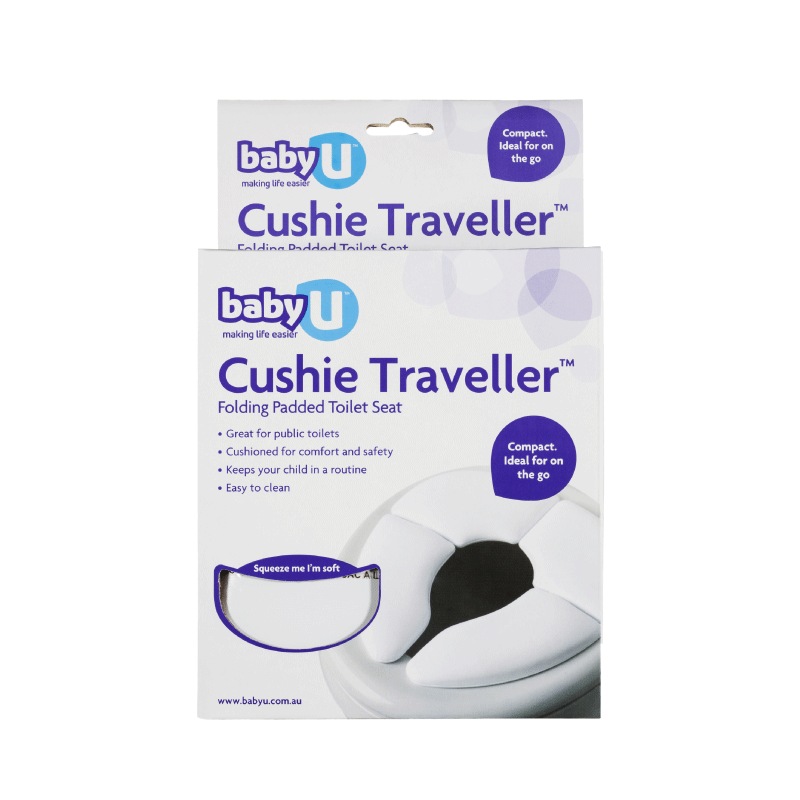 Back
Cushie Traveller
Folding Padded Toilet Seat, ideal for toddlers on-the-go
The babyU Cushie Traveller is a unique padded folding toilet seat, ideal for toddlers on-the-go. This soft cushioned seat fits regular toilet seats and helps keep your child in routine, even when you are on holiday or out running errands.
Easy to clean
Great for public toilets
Keeps your child in routine during Toilet Training
Cushioned for comfort and safety
Fits all regular toilet seats (excluding square toilets)
Underside brackets helps keep seat secure
Includes washable carry bag
Ideal for on-the-go

Customer Reviews
Best idea!
Best idea! This is so handy for when travelling or even when going to a public toilet in the shops. It's easy to disinfect and wipe clean. It folds up nicely and doesn't take up much room in a bag. I found I used it very frequently so well worth the price. It's even handy to use when you go to friends or family to keep working on toilet training.
GREAT
I loved this product. I used to carry it in a wetbag (as we used cloth so I always had plenty of wetbags around) and some wipes for accidents if pee got on the seat. I LOVED that it was so easy to fold up to take with you to the supermarket to use in the toilets there. Or to a restaurant so your kids still had something they were comfortable with. AND they are really affordable. You could fold them up and throw them underneath the pusher too.
They loved using it
This was perfect for two of my children, They loved using it and it gave them piece of mind as public toilets can be rather daunting for little ones. It Folds up great and easy to pop on our day bag. It Makes going out a breeze, it's really easy to clean also.