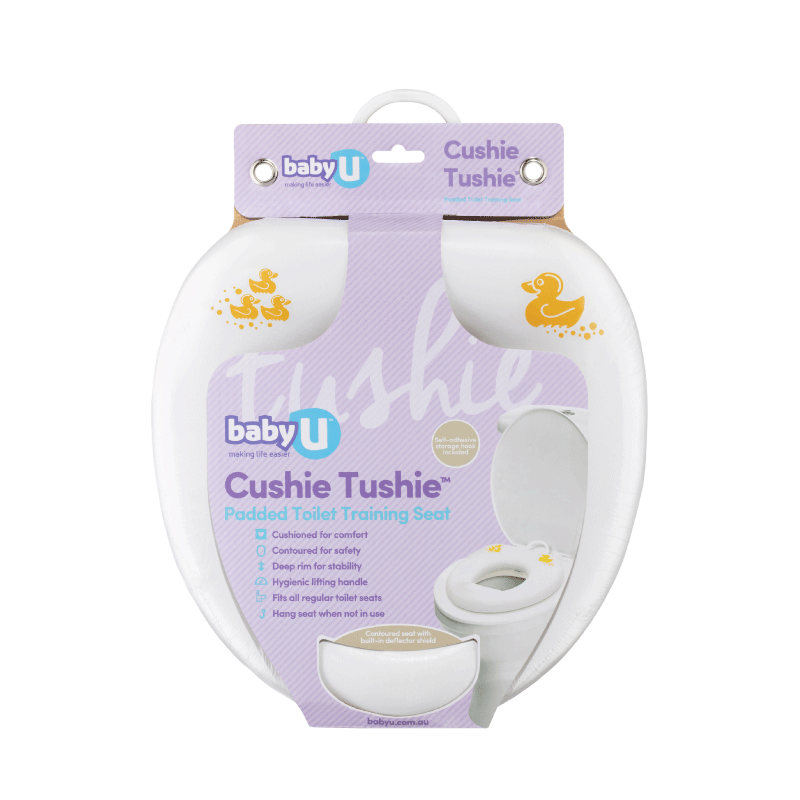 Back
Cushie Tushie
Padded Toilet Training Seat
The babyU Cushie Tushie Padded Toilet Seat offers your child comfort and warmth during their Toilet Training journey. The Cushie Tushie fits easily onto a regular toilet seat.
Cushioned for comfort
Contoured for safety
Deep rim for stability
Hygienic lifting handle
Fits most toilet seats (not compatible with European)
Contoured seat with built-in deflector shield
Includes a storage hook to hang seat when not in use

Customer Reviews
This toilet seat is great
This toilet seat is great for little ones. It is very easy to wipe down and also easy to store away. It is nice and padded which is a great feature. The ducks on the seat are a great addition as it is something fun for little ones to see and makes toilet time a little bit fun.
My daughter loved this
It was so soft on her bottom she always said it was like sitting on a pillow. She liked putting it onto the toilet herself. It was easy to clean. (used to have disinfectant wipes in the toilet just for this reason if she managed to pee on the seat) I really liked how comfortable it was for her.
Recommend it!
This toilet training seat was great when I started transitioning from nappy on to nappy off. It's padded and very comfortable to seat on it. We have 3 toilets at home and it fit all of them. The price is reasonable and you can find this product pretty much everywhere.