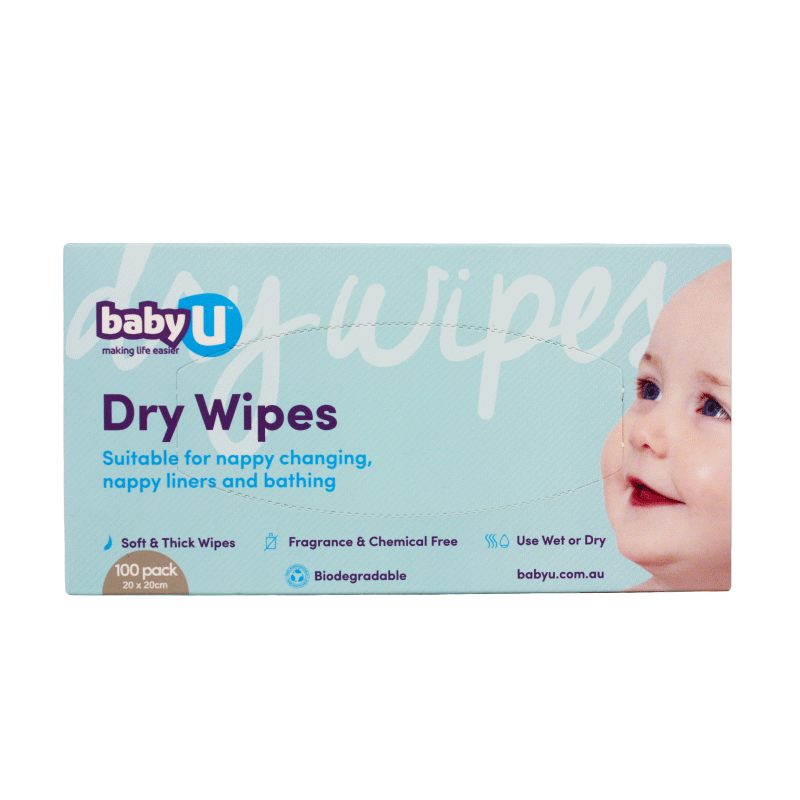 Back
Dry Wipes
babyU Dry Wipes 100pk are a great nappy bag essential. These high quality, soft and durable spunlace dry wipes are ideal for nappy changing, nappy liners and bathing. The wipes are 100% biodegradable and can be used wet or dry, are fragrance free and contain no chemicals.

Customer Reviews
better than I expected
I read up a lot of reviews before I bought this product. I wasn't expecting much of it but it's very useful especially at home. I set up my nappy station near a sink so I can use water and dry wipes to clean my daughter's bottom every time. The material of the dry wipe is very thick and soft and doesn't break off easily.
Seems unnecessary but so useful
These are SO USEFUL! They are very versatile - you can use them as diaper liners, dry wipes or wet wipes. These are so soft on baby's skin that we use it to wipe her spit up if we run out of clean towelettes to us. We usually have this handy in the diaper bag since it is disposable and easier to work with than a towelette when we're out and about.
Affordable, reliable wipes
These dry wipes are excellent for newborn babies. Simply wet them with water to clean baby, then use a dry one to pay them dry. I learnt from the midwives in hospital that drying baby with a dry wipe is essential for avoiding nappy rash. We did this almost every nappy change and avoided nappy rash. They're cheaper than the wet wipes on the market too.