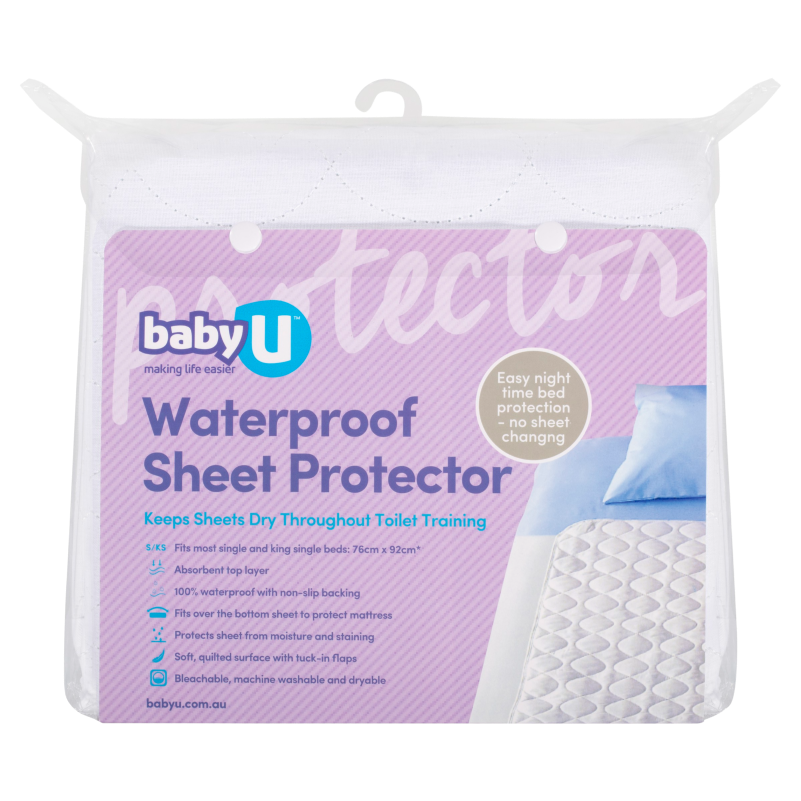 Back
Waterproof Sheet Protector
No more middle-of-the-night bed stripping
The babyU Waterproof Sheet Protector keeps sheets dry through Toilet Training. Simply place the sheet protector on top of the bed sheets in case of accidents. When the bed is wet there's no need to remove the sheets, just the Waterproof Sheet Protector.
100% waterproof with non-slip backing
Fits over the bottom sheet to protect mattress
Protects sheet from moisture and staining
Absorbent, soft quilted cotton/poly surface with tuck-in flaps
Bleachable, machine washable and dryable

Customer Reviews
Lifesaver during Toilet Training
Currently toilet training and I have 2 of these on rotation. Makes clean up so much easier after an accident and save you worrying about wet smelly mattresses or lounges. They are so easy to put on and fit perfectly. Being waterproof I was concerned they might sound and feel a bit plastic but they are really nice material.
Its a must have
Definetley need one of these! You can rotate round the house, use on the kids beds, on the lounge for the toilet-training toddler, and on our bed to protect our sheets from the baby mess. Best value for money when compared with all other equivalent products currently on the market.
Must have when toilet training
These are so easy to use, and a must have when toilet training. We just put this under the sheets, and if my child wets the bed, I only have to change a sheet. Super absorbent, and the price is super reasonable as well. Always have a spare in the cupboard.